Needlepoint canvas designs and gifts by Nancy, now online. Sixteen years designing on zweigart needlepoint canvas, 100% cotton woven orange-line mono and interlock from Switzerland used exclusively in a range of mesh sizes and colors.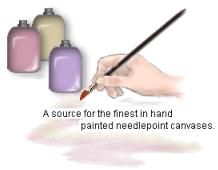 Since our needlepoint designs are not mass machine stamped or quick printed onto canvas. Great care goes into each and every unique acrylic hand painted canvas, brought to life by your many stitches, becoming "your" work of art to be treasured and admired by all who see it . . . heirlooms that you and your family will cherish for years to come.


The growing needlepoint design selection consists of flowers, fruits, vegetables, judaic, cats, and kittens. Soon to add Persians, Himalayans and animal designs including eagles, bears, horses, birds, cows, rabbits and more animals. From bold to pastel hues as well as simple to elaborate detailed designs satisfying both beginner to the more experienced.

After browsing through the needlepoint canvas section you will also find a variety of matching gift items to coordinate the needlepoint design ready to enhance any room decor. Small or large coffee mugs, t-shirts, tote bags, coasters, tiles, table art, keepsake boxes, wall clocks, framed prints, stationary and more. Custom design, color and added text is also available.

Needlepoint is an wonderful activity that gives great pleasure. It's not only relaxing, calming the nerves, it produces beautiful art that you personally make and proudly display.



Add us to your favorites list for quick and easy access back or sign up for our free newsletter to be informed of all new updates, sales and promotions.

Browse
Needlepoint Canvas Designs !!